Scrap Refrigerator & WEEE recycling machines E-Waste recycling line
Short Description:
Refrigerator recycling plant used for scrap refrigertor recycling, and it can shred and separate out the iron, copper,aluminum ,plastic and polyurethane ect.
Certification: CE
Min.Order Quantity: 1 set
OEM: Available
Overseas Installation: Available
Production Capacity: Customized/please contact us for details
Power suppliy: 380v,50Hz,3 phase/ customized
Product Detail
Product Tags
Description
Suitable for refrigerators of 220 litres or less, with a capacity of 40~60 units/hour;The purity of copper, aluminum and iron is higher than that of similar equipment. Besides, it is equipped with foam plastics refining equipment, and the product value is higher.The secondary crushing system specially used for waste refrigerators has the characteristics of easy replacement, saving cutting tools and energy consumption.Good system stability, suitable for continuous trouble-free work, less downtime, low maintenance cost;The equipment has a high degree of automation. It is necessary for fixed operators to be equipped with a double fire prevention system, safety protection facilities and LCD real-time monitoring device to ensure the safety of only dismantling and copper and aluminum sorting stations.Equipped with fluorine extraction device, activated carbon filter device, dust collection device, perfect and excellent environmental performance;The line body can be flexibly placed according to the site conditions, covering a small area and making the production site clean and beautiful.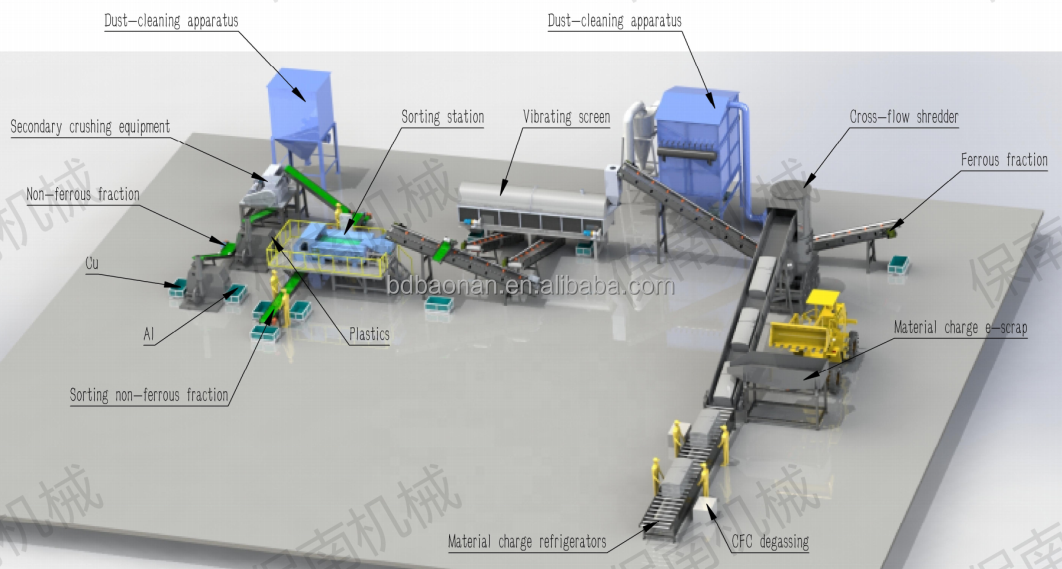 Scrap Refrigerator Recycling Plant
Refrigerator recycling plant infomation as following:
1. Equipment capacity :40-50 set / hour
2. Dimensions: 28000 X 18000 X 5200mm
3. Equipment power: 200KW
4. Power supply: three-phase AC 380V/50Hz, or customized
5. Noise, dust leaks and exhaust gas emissions in line with national standards and requirements
6. Equipment appearance and color: according to corporate standards.
---
Next:
---